Grandmaster Doc-Fai Wong
Grandmaster returns to teach and test our students
Chinatown Tai Chi Center - September 18, 2004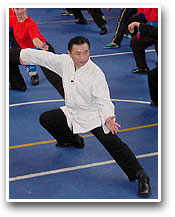 Tai Chi Form Seminar
World renowned Grandmaster Wong teaches the essential principles and many applications of the Tai Chi form. If you have ever been interested in learning the ancient art of Tai Chi, Grandmaster's annual visit is an unmissable opportunity to learn from one of the worlds most accomplished masters.
Tai Chi Exhibition
Grandmaster Wong, world renowned kung fu master, performs segments from both tai chi chuan and choy li fut styles of kung fu. The students of Chinatown Tai Chi Center join him in demonstrating many of the open hand and weapons forms taught at the school.
Grandmaster Doc-Fai Wong of San Francisco is head of the Plum Blossom International Federation, one of the largest kung fu organizations in the world, and has been teaching Yang style tai chi chuan and choy li fut since 1968. Chinatown Tai Chi Center is one of more than 90 member schools world wide.
For more information on Grandmaster Doc-Fai Wong, check out his Web page or check the other events at our school.